Welcome Today,
Here and Now
Blog by Wieslaw Sadurski,
the author of the wisarts.com
and all the presented files.
---

October 18th, 2018.
Friend, hey Peter, you write that life plunged into darkness.
And what about perpetual light shining from each photon !? They do not take into account your views, they fly from flame of the candle on the table in pairs in all directions of the world.
Let me tell you what you can not see in the flame: the atoms heat, electrons jump onto further orbit (interesting that they do it not-in-time!), during a jump emit pairs of photons, which are flying in opposite sides with the speed of light of course, they are in fact light.
Before I sleep away - they will be on opposite sides of the solar system.
With me so far? The left photon in the galaxy Cygnus gets into strong magnetic field, changes its qualities, and the right one, and right one, so far away from the partner that I do not count the number of zeros - changes at the same moment!
So what? They communicate as we do? over and above light speeds, tachion spins?
Fascinating, embarrassing! Nuclear physicist colleague says with a smile: - In reality, this of 11 dimensions, they are still together. And be smart here!
Think, if you can feel: prions, quarks, mesons, leptons! Multiple praise for all of them!
Flies such a 'so-little', collides with 'any-little', annihilate one another, creating a lot of new particles, one of which is a part of 'so-little', which only tends to collide!
What is played on the trumpet of being? What occured to the time?
And you find life blind !? You write, you have awakened a sense of despair, however. Is it healthy on a daily basis?
In a space and light mystery is rather appropriate sense of horror and delight. Goes further.
---

September 12th, 2018.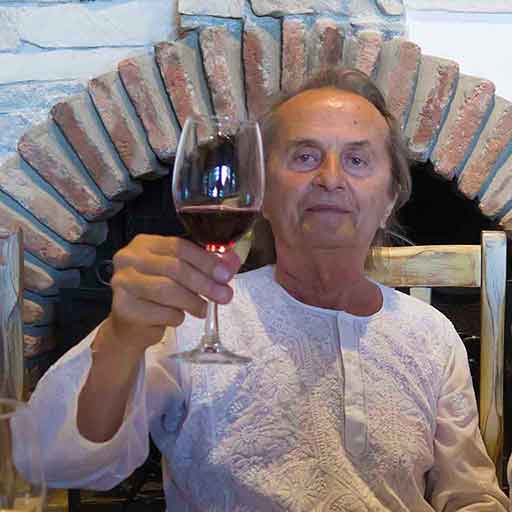 I was travelling to Georgia, enjoying noisy Tiflis, tropical Batumi and warm waves of the Black See. Salut!
---

August 16th, 2018.
I found on YouTube: a short video, A Bodhi Pearl (Riding the Wave), containing my paintings: A Bodhi Pearl, concise renderings of Buddhaic Light, by Tozen, the mystic of the Unborn Buddha Mind
---

August 9th, 2018.

Uploading wisarts.com 5.0. It means deleting my English, German and Polish blogs 2001-17, as well as many superfluous pages.
---

July 25th, 2018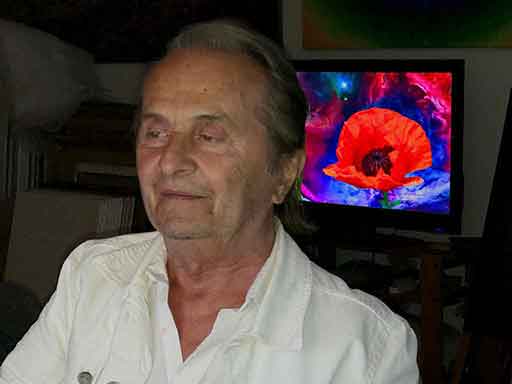 'wisarts.com' demonstrates the progression of my work in arts over the past 50 years.
I have been working on the web for over 20 years now,
uploaded the first version of my website wisarts.com on July 7th, 2000.
Hopefully, there will be something in this website that inspires you.
I created it to share my joy and passion of working in arts.
---
Comments
I will be sharing your ev. comment here. English, Polish, German.
Your first name only to protect your privacy.
Agata

Good morning!
images just reached me, thank you.
They are beautiful! bring so much peace, reflection and good energy that I still look at them.
Looked fabulous today, in light of the setting sun.
I am glad that I met you in this virtual world, completely by accident.
Now wisarts.com is in my favorites, I look, admire, and so it will be.
I wish you all good health and much luck.
Yours Agata

---

Brigitte and Jochen

Lieber Herr Sadurski, heute ist das Bild bei uns eingetroffen. Wir sind ganz begeistert!!! Das Bild gefällt uns außerordentlich gut.
Wir müssen es jetzt nur noch mehrfach bei unterschiedlichen Lichtverhältnissen ansehen und entscheiden, wo wir das Bild am besten aufhängen.
Bitte teilen Sie mir doch noch Ihre Bankverbindung mit, damit ich bezahlen kann. Ich hatte mir /.../ € aufgeschrieben. Ist das korrekt? Viele liebe Gruße Brigitte und Jochen

---

Krystyna K.

Pana obrazy są pełne optymizmu, nadziei, nieskończoności i wiary w człowieka - tak je odebrałam! Jestem pod wrażeniem, dużym wrażeniem, jak zawsze zresztą.

---

Danuta G.

Wiesiu! Twoje obrazy są niesłychane! Uniwersalność i inner beauty twoich przesłań malarskich dodaje wiary w sztukę i w sens człowieczej wędrówki.
Bardzo serdecznie pozdrawiam i dziękuję! Danka

---

Kate M.

Dear Wieslaw, I want to express the joy my husband Dan and I felt when we discovered your paintings on the web this week. We wept with recognition and appreciation for how you have visually captured the Trinity's relationship with humanity and creation in all its vibrant mystery.

---

Gail

Herr Sadurski - I accidentally arrived on your web page today and was amazed and delighted. Poetry that rings also in my head all the time - thank you. Images that deserve to be explored and shared with others. Oils - mmmmm I wish I could see the originals. You appear to live on the border between two worlds - Berlin and others. Thanks for sharing. Might you allow us to perform some of your poetry some time? I believe that there are others who would enjoy it?
From Waukesha, Wisconsin

---

susan

I started looking through your site last night and I couldn't stop. You are an exceptional artist. Thank you for letting everyone see your work.
Your work is not only prolific and varied, it's beautiful, thought provoking and mesmerizing. I have bookmarked your site and will visit it often!

---

Michał

Kochany Wieśku, wszedłem na Twoją stronę. Jest znakomita, genialna, na najwyzszym artystycznym poziomie, przejrzysta, łatwo dostepna. Reprodukcje wspaniałe. Tyle oglądania, że oczy puchną.
Twoje rzeczy pojawiają się jak jakieś deus ex machina. A czy Ty sprzedajesz swoje kosmologiczne obrazy? Muszą chyba kosztowac majątek, bo tyle wymagają pracy. Są znakomite. Mają odwagę pokazywać to, co jest tylko z pozoru banalne - Wszechświat - i jest to Wszechświat mistyczny i mityczny.
Podróżujemy w kosmosie. I każda forma i każdy kolor znaczy nieskończoność. Natura, której w naszej naturze nie ma...
Chociaż w Twoim malarstwie nie tylko o kosmiczne wymiary chodzi. U Ciebie jest sprzężenie wiedzy i mistyki.
Rzeczy z ostatniego okresu, te konstruktywistyczno-kosmiczne są genialne. Tak czyste w swoim rysynku i kolorze, tak przez to oceaniczne.
Oczywiście Twoje stworzenie świata jest też zachwycające... Gratuluję Ci z całego serca. Powinieneś byc dumny stokrotnie z tego co zrobileś.
Po prostu wchodzi się we wszechświat wisarts.com i wcale nie chce się z niego wyjść. I juz za pierwszym razem, kiedy wejdziesz, oswajasz się ze "stroną" na tyle, że chcesz tam wracać...
I pomysl, żeby tam jeszcze oprocz poezji i malarstwa byly powiesci, opowiadania i Bog wie co...
Ale z tym Bogiem trzeba uważać, bo się zrobi groch z kapustą. I będziesz się musiał przekwalifikować.
A czy z tego wszystkiego pieniądze będą? Bo kasa, jak się mówi, zawsze jest ważna. Nie muszę ci tego tlumaczyć, Tobie, co pół sezonu spedził w Lappisie wyłącznie na grzybach i rybach.
Powinieneś siedzieć już dawno na pieniadzach, a Ty wciąż cienko przędziesz. Los artystów czy głupota świata? Stare, jałowe pytanie, na które nie ma odpowiedzi. Chyba na szczęście.
Pozdrawiam i ściskam najgoręcej. Michal M.

---

Kathy

My name is Kathy and I have been searching endlessly for an artist who could truly express what I witnessed a few years ago, and your rainbow paintings are the closest I have come to. A few years ago, I had an angel visitation and above its head was a circular rainbow of beautiful colors. Each colored band moved clockwise and counterclockwise within itself. My walk with Jesus has matured and I have come to love Him more than I ever have. The angel, by the way, was all white light that didn't hurt my eyes and in its little hand was quill pen and it was writing in a book. I can only pray that it was a sign that my family and I have our names written in the book of life. Thank you for your beautiful website. I can understand your artwork. God Bless!

---

Tamara

I just had to e-mail you and tell you that you truly have a gift from "The One". Your enlightening - is refreshing and gives me hope. I'm just starting out at 36 and college study matter is so boring. So, seeing your work is a breath of fresh air. Thank you sooooooo much for sharing your gift and giving me HOPE!!!!!!!!!!!!!!
Sincerely, Love and Prayers

---

Tim

Hi Wieslaw,
You must be strong and healthy this days. Your artwork are very inspiring and impressing. I have never seen any images like those images you create before. It takes me a while to looking at the images and around the site. I really like those images you create. I wonder if I can have a permission to copy some images or refer links after I create my Website. Thank you very much and hope you have a wonderful days. And keep up the super artwork. Tim.

---

Jacki

Hi! Just wanted to say I am speechless as I wonder through the site looking at the paintings you have depicted many things ungraspable so well.... Thanks Jacki

---

Leave a comment