Paintings of Creation
express the relationship of Man to Cosmos
in original oil paintings by Wieslaw Sadurski
---
Human is the face of Creation:
Light crystallizes down into our worlds, all our worlds move towards the Light.
Reach oil textures, lots of half-transparent layers. Fascinating two years long work.
My idea was to create painting that look different in different light.
Yes, the painting shines even in a candle light. Seems to be made of light.
But in full light you see there is no black there, only the deepest blue in hundreds of semi-transparent layers.
---
The basic theme of print-paintings was the beginnings of life and its fantastic spaces.
The brush goes further towards the source of creation - drawing disappears, the space appear.
Cosmic dimension.
I use a lot of paints.
Now every image is created differently. Mostly I do not have a preliminary project or even an idea,
I start with just anything or squeeze a few tubes of paint onto the canvas and break colors with tapping brush. Seeing how lines of landscapes are emerging in a vision created by brush.
Between them I paint semi-transparent, multi-layered colors, deepening the space between the crude clots of oil, bringing light and space into it.
The basic movement of the brush is tap-tap-tap.., quick hits on the canvas. Three times faster than a heart-beat.
---
Light shines through all its creations.
Landscapes of becoming,
visions unfolding from the brush,
poetic research on cosmology.
Thick textured oil paints, many-layered transparent brushwork.
---
Love is ruling okay. Keeping my brushes inspired.
Letting them to paint visions.
I painted this motif on my very first painting 'December Dream', here in
Landscapes of Creation.
Some months later 'Come into the Light' (above) was born.
Here is 'Tunnel of Love', which acts in very peculiar way onto meditator. And I used to meditate in rare hours when I didn't paint.
It happened when the painting was done. I sat in a deep relax to have a rest, oh yes, feeling quite happy to see the job done. Looked into the small star within great bowl of light. Very quiet. After ten or twenty minutes I saw surprise: the painting somehow dissolved, a vision emerged. Slowly pulsating waves of colors in the dark. What?! Dance of joy, glass of tee, and again. And again!

There were always many guests coming and going; I asked them to meditate on painting. They were surprised like me, trying to express their vision. And later, during my exhibitions, some meditators were staring at the 'Tunnel of Love' like a magpie in a bone. Weeping.
Here is my statement. I am not a clairvoyant, not a seer. My brushes are responsible! they have visions! I just follow, i.e. I do what is needed.
Only eight years later, creating artwork on consciousness, I understood the meaning of the 'sun within a sun'.
It is the First Awakening of Consciousness.
Only fifteen years later I started to use One Wave brushwork, in Painting Energy Fields, corresponding to vision from 'Tunnel of Love'.
---
The internal theme, intuition and intuitive research - is the creation of matter from the crystallizing light,
its organization in landscape-like thicknesses with the internal space-time,
subjected to the gravity of the experiencing mind and heart.
Sometimes the painting is created in one session, more often it needs a million brush strokes, what lasts weeks long, in rhythm three times faster than heartbeat. Tap-tap-tap.
Sometimes the painting is created as a vision that has just emerged, or during the act of destroying painting that I could not - how to determine it? - solve...
do you see my footsteps on the canvas above?

every step here explodes in fire,
from which the stars and worlds are born


---
I painted that oil painting above, where Girl is stuck between the eyes of the Demon.
30 years later, feeling compassionate, I let her dance for a while.
---
The internal situation is great; it is called: fulfillment.
I began to paint and I am already at my goal. That is to say: I found my vocation, my home, freedom.
Which is stretchable now, in one winter reaches the dimension of a light year.
---
on the very edge of being

at one with the creative forces of nature

felt I was the living brush held by a greater hand


I called it Art Yoga
---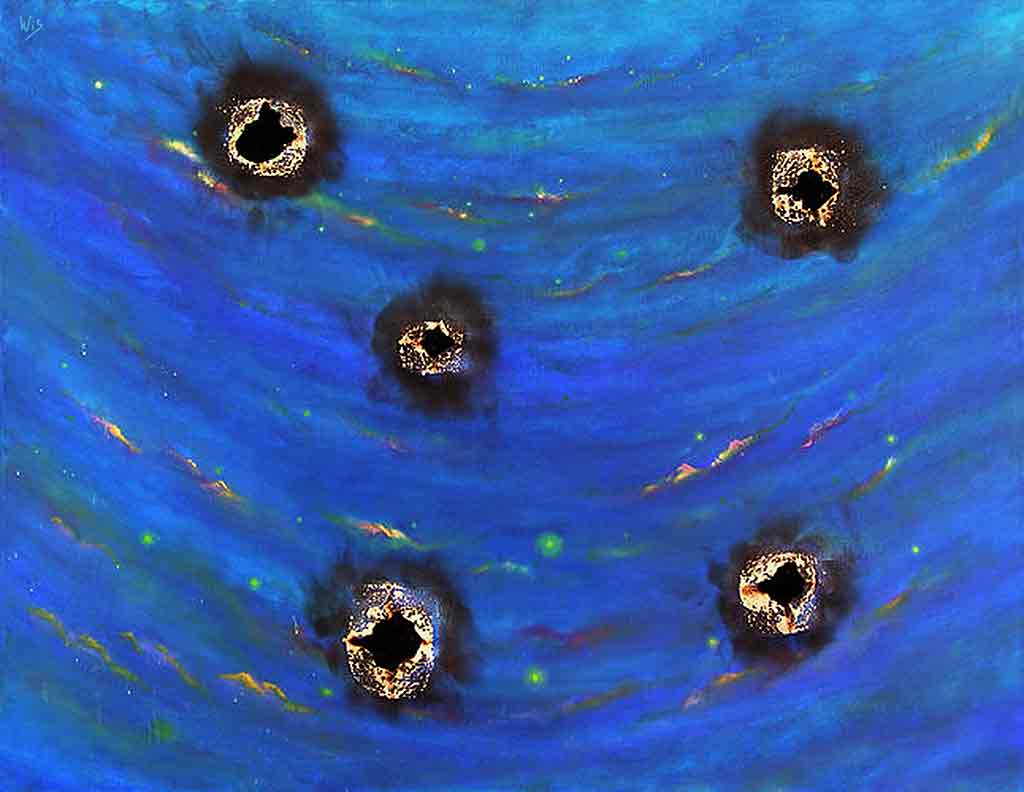 Shots on the Border, 1987, original oil & fire painting on canvas 100 x 80 cm
All those years I had a GDR watchtower facing my windows,
these were the first ones in the West(Berlin).
And, between realms, there were "Shots on the border", the painting above.
Five bullets hit the canvas
but painting and painter live forever!
---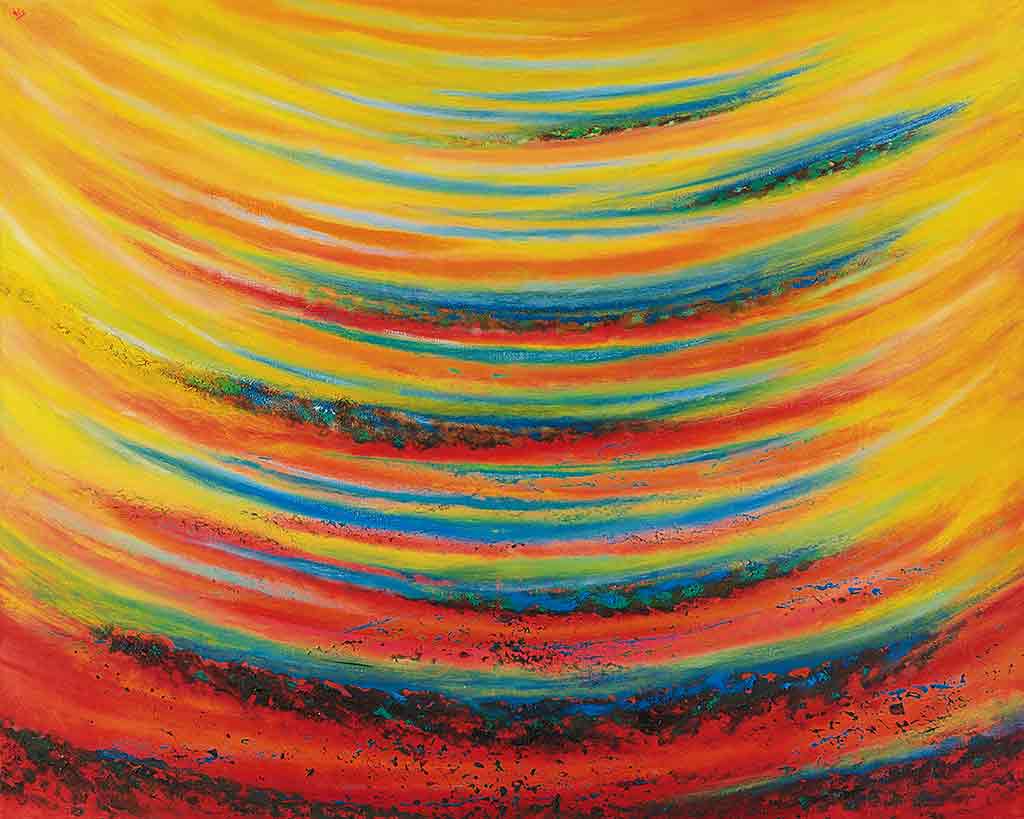 Indian Summer, 1988, original oil painting 150 x 120 cm
Stripes of chaotic colors taking on the visions of landscapes,
one above the other, divided through skies or waters.
Warm spaces of harmony embracing violent creations.

So what you see here is a process of chaos turning into a harmony.
---
Parallel to paintings above I created these years the Landscapes of Creation.