Computer Visions converted into Paintings

This is the navigation page of my computer artwork;
all the Images on following pages are digital in their nature - available on Art Canvas Prints by Wiesław Sadurski
---
geometry of fractional dimensions, colors of infinity, computer generated fractal images.
I created these graphics in the very first go on computer, using all the new tools and electronic tricks on the motif well known to me,
painted abundant twenty years earlier in oils and acrylics on many canvases - LABORS OF LIGHT.
virtual landscapes, science-fiction and fantasy
in three dimensional graphics created when my daughter was 10 years old, so these are images for the children.
---
Light makes visible what exist
Image makes visible what doesn't exist.
---
Created for the sheer love of it;
learning to use many different programs and filters in constant visual experimentation.
Mandala is an explorative journey of a man towards himself, a spiritual carrier of enlightenment, a vessel of essence.
and I am here to make the mathematical equation of love visible, with some intriguing geometry in these graphics.
---
made in love for a life giving sun, which is being created
studies of joy on the Red Green Blue trinity.
makes visible that what doesn't exist.
---
The purest colors in the Universe! My computer has electronic brushes and a palette made of equations,
I just serve as an Image Generator.
where LIGHT of intuition, through a prism of mathematical functions is being dispersed into its constituent Rainbow Images.
---
Paintings of Man and Women as Human Silhouettes filled with landscapes and stars.
fly high in colorful summer or night fantastic landscapes.
show their individual characters. My digital brushes just follow their intelligent beauty.
---
India holy men leave behind the dark ways of existence and follow the way of light.
painted in traditional kimonos against flower backgrounds.
showcasing their hungry truth and inner beauty. How do you deal with the beggars, when you are in India? I paint them.
---
their shining bodies in fantastic landscapes from flower to sun to planet horizon.
metaphoric Paintings of Peace and War, from nuclear explosion to barbed wire landscape.
take billions of years to evolve, flowers blossom few days only, yet they feel well together in my art canvas prints.
---
MONKEYS PORTRAITS & PAINTINGS 2013-15
created digital on Art Canvas Prints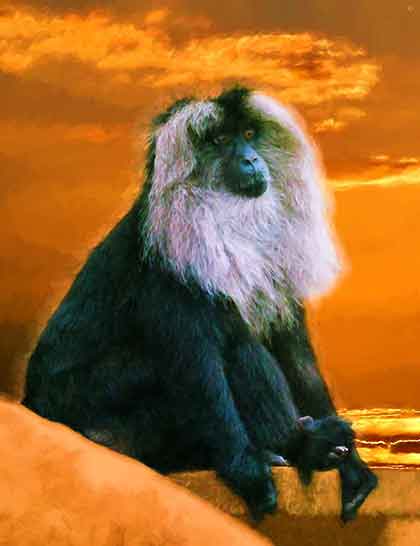 PEOPLE PORTRAITS 2016-17
in digital Oil Paintings on Art Canvas Prints
show quite human emotions and intelligence, love for the kids and feeling of wonder.
tell stories of people I met in India and Japan. See my attitude to them - which is one of love.
---
This page represents the second Art Department on wisarts;
if you wish to see all five Departments - visit my home page.
---